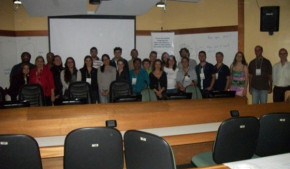 Cap-Net Brasil and National School of Public Health Sérgio Arouca – ENSP/Fiocruz – Oswaldo Cruz Foundation organise the course on 'Integrated Water Resources Management – IWRM and environmental health indicators' which was held from 6 to 10 July 2015. The aim of this course was to build knowledge networks and research groups on the subject, in addition to dissemination of knowledge about water resources and environmental health at academic level.
A total of 23 participants from various states in Brazil attended the course with the presence of ENSP speakers, State Government of Rio de Janeiro, Municipality of the City of Rio de Janeiro, as well as civil associations and academia.
The participants were expected to promote the use of environmental health indicators as environmental health surveillance strategy, addressing problems of the Brazilian. For more information, please contact Ms. Priscila Gomes.